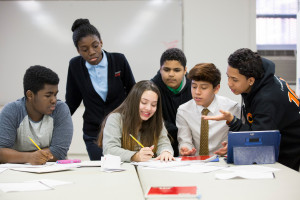 Combining Highbridge Voices' mission to "inspire excellence" with the Common Core education standards, the academic program goes beyond the bounds of traditional classroom teaching. At Highbridge Voices, students receive both group and individualized academic instruction to help them be successful students and engaged learners.
Our Concert Choir students focus on math, reading, and writing skills. Students spend over six hours each week on homework, participating in reading initiatives, and receiving academic instruction.
Our Chamber Choir students develop their reading and writing skills through instructional classes. Students who are struggling academically receive one-on-one tutoring that provides them with individualized academic support and learn test-taking strategies so they can improve their grades. The eleventh and twelfth grade students in our program focus on college readiness and self-advocacy. Through the customized curriculum, students are given tools and strategies to be solution-oriented critical thinkers, a skill that will help them succeed in college and in life.
As most Highbridge Voices students are first-generation college applicants, the students and their families are guided through the process of preparing for the SAT, conducting college visits and completing applications, FAFSA and scholarship applications, and learning how to navigate the higher education system.