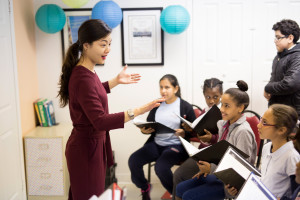 The Highbridge Voices music program offers students in grades four through twelve a comprehensive music education. Each student participates in a choral ensemble and studies music theory, music history, ear training, sight reading, and vocal technique. Through practice and performance, Highbridge Voices students become talented and skilled musicians who are able to perform music at high levels of artistry.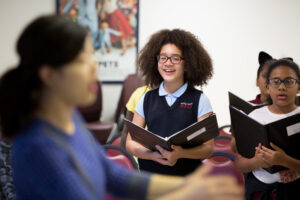 While the immediate goals of the music program include creating excellent choral music and developing music literacy skills, the long term goal of the music program is to foster a love for music and fine arts—a value the students can take with them, no matter what college and career path they choose.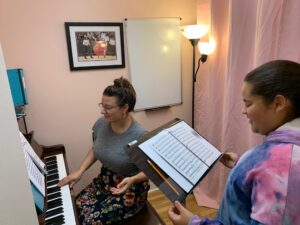 Concert Choir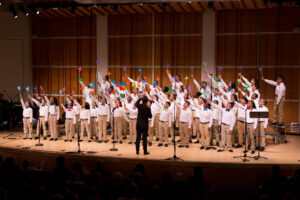 Fourth, fifth, and sixth grade students participate in the Concert Choir program. This includes two 90-minute rehearsals a week, weekly one-hour music theory and music history classes, and a weekly group voice class. Students in the Concert Choir program perform one and two part music, and sing music from around the world. They perform three to five times a year in and around New York City. Recent performance locations include Merkin Concert Hall at Kaufman Center in Manhattan and Sacred Heart Church in the Bronx.
Chamber Choir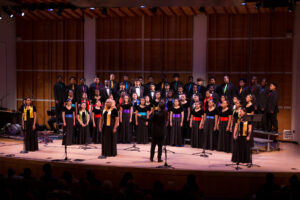 Seventh through twelfth grade students participate in the Chamber Choir program.This more rigorous program includes three 90-minute rehearsals a week, weekly one-hour music theory and music history classes, and a weekly individual voice lesson. Students in the Chamber Choir perform primarily four-part music, both accompanied and a cappella. As the premier touring group of Highbridge Voices, they give more than ten performances a year, and have opportunities to travel outside of New York. Past tour locations have included California, Boston, Florida, Washington, D.C., and Canada. They have had the honor of performing at high profile events, including the National Anthem at Yankee Stadium, the United States Supreme Court Historical Society Gala,  and an event with Sustainable South Bronx, EKOCYCLE, and recording artist and producer Will.i.am. You can read more about the Chamber Choir's tour experiences by clicking on TOURS.
Summer Voices
Our Summer Voices is back!!
Program Dates: August 23- August 27, 2021
Sign up by August 1, 2021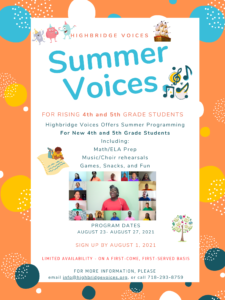 Summer Voices is an expanding music and academic program at Highbridge Voices. For two weeks each summer, rising fourth and fifth graders participate in this day-camp experience to get a feel for what it's like to be in Highbridge Voices. Students participate in daily choir rehearsals and learn the basics of how to read music and how to be in a choir. Summer Voices participants also dust off their math and English language arts skills in preparation for the coming school year. Add in large group games, outdoor recreation time, lunches, and great staff—and you have an experience you can only find at Highbridge Voices! To be eligible for Summer Voices, students must have completed third or fourth grade and live in the Highbridge neighborhood.  To register, please submit these forms: Fillable 2021 Summer Program Permission Slip or Online Registration form by August 1, 2021.
For more information, contact us.