Benefit Honorees: Christine & Kevin Fee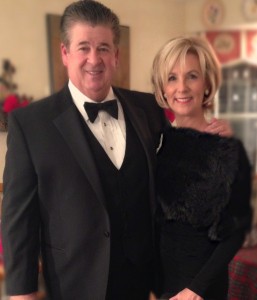 Kevin T. Fee is the Executive Vice President of The Reliable Automatic Sprinkler Co., Inc. which is one of the world's largest producers of automatic fire sprinklers and sprinkler system control equipment.  Kevin is also currently serving on the Board of Directors of the National Fire Sprinkler Association and has been recently appointed Treasurer.  Kevin is the recipient of NFSA's "Golden Sprinkler Award" (2008).  He was Chairman (1990-1994).  Kevin has been a Board member since 1981 and is approaching his 30th consecutive year and is the longest tenured Board member in the history of NFSA.  Kevin was a founding member of the International Fire Sprinkler Association and served as its first Chairman (2000-2003) and is presently a Board member.  Kevin was also past Chairman of the American Fire Sprinkler Association's Manufacturer and Supplier Council.
Kevin is the Vice Chairman of the Board of Directors of REAL Change Productions.  Kevin served as Trustee at Camp Tecumseh.  He is presently serving on the Board of Directors for The Clark Gillies Foundation and the Board of Governors at the Atlantic Beach Club.  Kevin is also a member of Boston College's Wall Street Council as well as a member of the Factory Mutual Research Corporation's Advisory Council.
Christine Fee is a Fitness Professional, Founder and CEO of Christine Fee Wellness and former owner of the personal training business, Chris Fee, Inc.  Christine holds multiple certifications with the American Council on Exercise and an MA degree in Education.  She has over 40 years of teaching experience. It is Christine's work with students and her love of children that has drawn her to support the Highbridge Voices program.
Christine and Kevin are proud parents of three children and grandparents to four beautiful girls, two of whom were welcomed into the world just this year.