20th Anniversary Emcee: Jeannie Gaffigan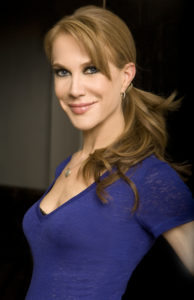 Actress, producer, writer, philanthropist, mother of five and all around comedic force Jeannie Gaffigan is most well-known for the comedy empire she created with her writing and producing partner as well as husband, Jim Gaffigan, one of the world's premiere stand-up comedians and actors. Called "Comedy's Quietest Power Couple," by Vanity Fair, Jeannie and Jim have developed a critically acclaimed TV show, written bestselling books, and produced multiple sold out tours and platinum status comedy albums.
Recently, Jeannie was executive producer and writer on the TV Land comedy "The Jim Gaffigan Show." The show was well received by critics, with Newsday proclaiming it as "A must see comedy smash," People Magazine calling it "One of TV's bright spots," and The Los Angeles Times calling the show, "Fun and Funny."
Last year, Gaffigan directed her husband's Netflix comedy special "Cinco", which premiered in January 2017 and has directed his upcoming special, "Noble Ape" due out July 2018.
The first comedy special Jeannie co-wrote and executive produced was 2006's "Beyond the Pale," which achieved Platinum sales for CD and DVD. Next was the highly successful "King Baby" in 2009, which she co-wrote, executive produced, and wrote the opening sequence in the special directed by Troy Miller.  She also helped co-write and executive produce Jim Gaffigan's latest comedy specials, "Mr. Universe" in 2012 and "Obsessed" in 2014. Jeannie was also the story editor for Jim's books, Dad Is Fat and FOOD: A Love Story, two New York Times sellers.
In addition to performing in theater, film and television, Jeannie was the founder and executive director of "Shakespeare on the Playground," a not-for-profit theater company that produced Shakespearean plays for inner city teenagers with a focus on literacy and production skills.  She lives in New York with Jim and their five children.