Upcoming Performances
Don't miss a performance!
Highbridge Voices 2019 Benefit Concert
Monday, June 3rd, 2019, 7PM
Merkin Hall, Kaufman Center, NYC
Highbridge Voices 2019 Community Concert
Thursday, June 6th, 2019, 7PM
Bronx Community College Gould Memorial Library Auditorium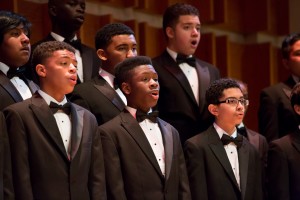 June 4, 2015: The Highbridge Voices 2015 Benefit Concert at Merkin Hall in Manhattan.
Book the Choir
Highbridge Voices welcomes opportunities to sing at events in the New York Metro Area and beyond. The choirs frequently perform for corporate and social gatherings, community events, and celebrations. Past events include the Macy's Window Unveiling, the Bronx Borough President's September 11th Memorial, the National Anthem at Yankee Stadium, and the Youth for Understanding Gala at New York City's Metropolitan Club. Highbridge Voices is also available for engagements outside New York City. The choir has performed at the New York State Capitol, the United States Supreme Court, and has been a guest choir at Saint James Church in Stratford, CT and Resurrection Parish in Rye, NY. We offer music that is tailored to your event, and an experience that the audience will remember for years to come.
For more information, or to book Highbridge Voices for your event, please contact us.
Past Performances
Highbridge Voices Spring Tour 2019 to DC and Virginia
April 23-27, 2019
Highbridge Voices in Concert
Sunday, April 7th, 2019, 4PM
Grace Church, White Plains, NY
Highbridge Voices Concert Choir with Singer for Hope
Wednesday, February 20th, 2019, 5PM
Stage at Port Authority Bus Terminal, NYC
Highbridge Voices 2018 Winter Concert
Monday, December 3rd 2018, 7PM
Sacred Heart RC Church, Bronx
Highbridge Voices Singers with DCINY
Symphony of Carols: the works by Randol Bass
Sunday, November 18th 2018
Carnegie Hall, NYC
Highbridge Voices Singers sings the National Anthem at Yankee Stadium
Tuesday, August 14th 2018
Yankee Stadium, Bronx
Highbridge Voices 2018 Community Concert
Monday, June 4th, 2018 7PM
Morris Heights Educational Center (PS 204), Bronx, NY
Highbridge Voices 2018 Benefit Concert
Wednesday, May 30th, 2018 7PM
Merkin Hall, Kaufman Center, NYC
Highbridge Voices Spring Performance Tour in Quebec City, Canada
Tuesday, April 3rd, 2018 7:00PM
La Cathédrale anglicane Holy Trinity de Québec
31, rue des Jardins, Quebec City G1R 4L6, Canada
Highbridge Voices Spring Performance Tour in Saratoga, NY
Monday, April 2nd, 2018 7:00PM
The Church of St. Peter
241 Broadway, Saratoga, NY
Grace Church Performance
Sunday, February 18th, 2018 4:30PM
Grace Church, White Plains, NY
2017 School Tours Performances
June 13th, 2017
P.S. 73, P.S. 11, Sacred Heart School, and Bronx Academy of Promise, Bronx, NY
Highbridge Voices Benefit Concert
Thursday, June 8th, 2017 7:00 PM
Merkin Hall, Kaufman Center, NYC
Highbridge Voices Community Concert
Thursday, June 1st, 2017 7:00 PM
Morris Heights Educational Center (PS 204), Bronx, NY
Chamber Choir sings Mass
Sunday, May 7th, 2017
Resurrection Church, Rye, NY
Chamber Choir Spring Performance Tour in Tennessee with the Children's Freedom Choir
Wednesday, April 12th, 2017 6:30 PM
Tusculum Hills Baptist Church
4930 Nolensville Road, Nashville
Chamber Choir Spring Performance Tour in Tennessee
Monday, April 10th, 2017 7:00 PM
Saint John's Episcopal Church
3245 Central Avenue, Memphis
Joint Concert with Balwyn High School from Australia
Wednesday, March 29th, 2017 7:00 PM
Sacred Heart Church, Bronx, NY
Sunday, February 26th, 2017
Grace Church, White Plains, NY
Highbridge Voices Winter Concert
Thursday, December 8th, 2016
Sacred Heart Church, Bronx, NY
Chamber Choir sings Mass
Sunday, November 13th, 2016
Resurrection Parish, Rye, NY
Catholic Relief Services Fundraising Event
Thursday, September 29th, 2016
Penn Club, NYC
Performance at the New Yorkers for Children Gala
Thursday, September 15th, 2016
Cipriani, 42nd Street NYC
2016 Benefit Concert
Wednesday, June 8th, 2016
Merkin Concert Hall, Manhattan
2016 Community Concert
Thursday, June 2nd, 2016
Morris Heights Community Education Center, Bronx
Between Heaven & Earth
Monday, March 7th, 2016
Carnegie Hall, Manhattan
Macy's Window Unveiling
Friday, November 20th, 2015
Macy's, 34th Street NYC
Highbridge Voices sings at High Bridge Re-Opening
Tuesday, June 9th 10:30 AM
High Bridge Park, Bronx
Highbridge Voices Benefit Concert
Thursday, June 4 5:30 Cocktail reception, 7:00 Concert
Merkin Hall, Kaufman Center, NYC
Highbridge Voices Community Concert
Thursday, May 28, 2015 7:00 PM
Morris Heights Educational Center (PS 204), Bronx NY
Highbridge Voices Chamber Choir sings MASS
Sunday, May 3, 2015 11:15 AM
Resurrection Church, Rye NY
Highbridge Voices Chamber Choir IN CONCERT
Tuesday, April 7, 2015 7:00 PM
Mission Dolores Church, San Francisco, CA
Highbridge Voices Chamber Choir sings MASS
Sunday, March 22, 2015 10:00 AM
Grace Episcopal Church, White Plains NY
Performance at the Manursing Island Club
Friday, December 19, 2014 7:00 PM
Rye, NY
Highbridge Voices Performs at Artsbridge Event
Thursday, December 11 11:00 AM
Highbridge Voices Winter Concert
Thursday, December 11, 2014 7:00 PM
Sacred Heart Church, Bronx
Highbridge Voices Guest Appearance at St. Regis Hotel
Wednesday, December 10, 2014 7:45 PM
St. Regis Hotel, NYC (Private Event)
Highbridge Voices sings at Fordham University Student Mass
Fordham University Church, Bronx, NY
Sunday, November 9, 2014
Chamber Choir performs at New York-American Choral Directors Association Fall Conference
Vassar College, Poughkeepsie, NY
Friday, October 31, 2014
Highbridge Voices 2014 Benefit Concert
Merkin Hall, New York, NY
June 12, 2014
Highbridge Voices 2013 Winter Concert
Saint Peter's Church, New York, NY
December 13, 2013
Highbridge Voices Chamber Choir Concert
Grace Church, White Plains, NY
November 24, 2013
Bronx Society for the Prevention of Cruelty to Children
Bronx, NY
November 14, 2013
Highlights of our 2012-2013 Season
Performance at Federal Bureau of Investigation Memorial Service
Federal Building, New York, NY
June 17, 2013
Highbridge Voices 2013 Community Concert
Morris Heights Educational Complex Auditorium, Bronx, NY
June 14, 2013
2013 School Tours Performances
Sacred Heart School, P.S. 11, and Bronx Academy of Promise, Bronx, NY
June 12, 2013
Highbridge Voices 2013 Benefit Concert
Merkin Concert Hall at Kaufman Center, NYC
June 5, 2013
Performance for Sustainable South Bronx, EKOCYCLE, and Will.i.am
Bronx, NY
May 5, 2013
Highbridge Voices Chamber Choir performs at Festival Disney
Orlando, FL
March 7, 2013
Highbridge Voices 2012 Winter Concert
Sacred Heart Parish, Bronx, NY
December 14, 2012
Youth for Understanding Gala
Metropolitan Club, New York, NY
December 12, 2012
Classical Christmas Concert
Saint James Church, Stratford, CT
December 9, 2012
Yankees Winter Wonderland Event
Yankee Stadium, Bronx, NY
December 7, 2012
Highlights of our 2011-2012 Season
2012 School Tour Performances
P.S. 73 and the Bronx Academy of Promise, Bronx, NY
June 22, 2012
100th Anniversary Mass at Sacred Heart Church
Sacred Heart Parish, Bronx
June 16, 2012
Highbridge Voices 2012 Community Concert
Morris Heights Educational Complex Auditorium, Bronx
June 8, 2012
Chamber Choir performance at the United State Supreme Court
Washington, D.C.
June 5-7, 2012
Highbridge Voices 2012 Benefit Concert
Merkin Concert Hall at Kaufman Center, NYC
May 31, 2012
Young Music Makers Concert at Lincoln Center
New York, NY
April 26, 2012
Chamber Choir Spring Performance Tour to French-speaking Canada
Montreal and Québec City, Québec, Canada
April 9-14, 2012
Bronx Museum of Art
Bronx, NY
March 16, 2012
Mass at Resurrection Parish
Rye, NY
January 8, 2012
Holiday Performance at the MetLife Building
New York, NY
December 21, 2011
Highbridge Voices 2011 Winter Concert
Sacred Heart Church, Bronx, NY
December 16, 2011
2011 Enchanted Holiday Evening Gala
The Metropolitan Club, New York, NY
December 14, 2011
The Highbridge Community Development Corporation's Holiday Party
Bronx, NY
December 9, 2011
Chamber Choir Performance Tour to Westminster Choir College at Rider University
Princeton, NJ
November 12-13, 2011
Chamber Choir sings the National Anthem at Yankee Stadium for Game 5 of the ALDS
Yankee Stadium, Bronx, NY
October 6, 2011
10th Anniversary of the September 11th Memorial Service
Bronx Courthouse, NY
September 15, 2011
Performance at the Bronx Children's Museum
Bronx, NY
August 6, 2011
Highlights of our 2010-2011 Season
Chamber Choir sings the National Anthem at Yankee Stadium
Bronx, NY
July 29, 2011
Highbridge Voices Community School Performance Tour
Bronx, NY
June 24, 2011
Highbridge Voices Spring Community Concert
P.S. 204 Auditorium, Bronx, NY
June 17, 2011
Highbridge Health and Art Community Fair
Bronx, NY
May 21, 2011
Highbridge Voices 2011 Benefit Concert
NY, NY
May 19, 2011
Performance for the New York City Chapter of the Young Presidents' Organization
NY, NY
May 5, 2011
Highbridge Voices Concert Choir Performs with Rye Country Day School
Josie Robertson Plaza, NYC
April 28, 2011
Highbridge Voices Chamber Choir Travels to Orlando, Florida
Orlando, FL
April 14-18, 2011
Highbridge Voices Chamber Choir Performs at the University Club
to Honor the Work of Ms. Joan Colello
NY, NY
April 5, 2011
Highbridge Voices Chamber Choir Performs at Jessup One
Bronx, NY
February 25, 2011
Highbridge Voices Holiday Concert
Bronx, NY
December 17, 2010
2010 Enchanted Holiday Evening Gala
The Metropolitan Club, New York, NY
December 15, 2010
Mass at Resurrection Parish
Rye, NY
December 11, 2010
The Highbridge Community Development Corporation's Holiday Party
Bronx, NY
December 10, 2010
The 2010 Macy's Window Unveiling
Macy's Herald Square, New York, NY
November 18, 2010
Highbridge Voices' Backstage Pass Visitors' Day
Bronx, NY
November 18, 2010
A Veterans' Day Concert
The James J. Peters VA Medical Center Chapel, Bronx, NY
November 11, 2010
St. Francis Food Pantry Concert
Waldorf Astoria, New York, NY
August 5, 2010
Highlights of our 2009-2010 Season
Highbridge Voices Community School Performance Tour
P.S. 11 & P.S. 199, Bronx, NY
June 18, 2010
Highbridge Voices Community Concert
West Bronx Recreation Center, Bronx, NY
June 11, 2010
2010 Highbridge Voices Benefit Concert
Dicapo Opera Theatre, New York, NY
May 20, 2010
Citizens Housing and Planning Council 2010 Annual Luncheon
Marriott Marquis, New York, NY
April 15, 2010
Performance Tour of the Nation's Capital
Washington, D.C.
April 9-11, 2010
4th and 5th Grade Community Concert
Highbridge Nelson Senior Building, Bronx, NY
March 26, 2010
Father Michael Sepp Memorial Service
Sacred Heart Church, Bronx, NY
March 13, 2010
Community Performance and Washington D.C. Tour Fundraiser
Highbridge Community Church, Bronx, NY
February 19, 2010
Mass at Resurrection Parish
The Church of the Resurrection, Rye, NY
January 30, 2010
Children's Museum Performance
The Children's Museum of Manhattan, New York, NY
December 26, 2009
Highbridge Voices Winter Concert
Sacred Heart Church, Bronx, NY
December 18, 2009
2009 Enchanted Holiday Evening Gala
The Metropolitan Club, New York, NY
December 16, 2009
The 2009 Macy's Window Unveiling
Macy's Herald Square, New York, NY
November 19, 2009
A Veterans' Day Concert
The James J. Peters VA Medical Center Chapel, Bronx, NY
November 11, 2009
Highlights of our 2008-2009 Season
Highbridge Voices performs for the students of Sacred Heart School and P.S. 126
Sacred Heart School and P.S. 126, Bronx, New York
June 12, 2009
St. Patrick's Old Cathedral 200th Anniversary Celebration
St. Patrick's Old Cathedral, New York, New York
June 7, 2009
Highbridge Voices Annual Spring Concert
The West Bronx Recreation Center, Bronx, New York
June 5, 2009
Highbridge Voices' 11th Annual Fundraising Concert
Dicapo Opera Theatre, New York, New York
May 21, 2009
The Inauguration Ceremony of Ruben Diaz Jr., Bronx Borough President
Lehman College, Bronx, New York
May 21, 2009
Bronx Opera's production of The Magic Flute
John Cranford Adams Playhouse, Hofstra University, Hempstead, New York
May 16, 2009
Bronx Opera's production of The Magic Flute
John Cranford Adams Playhouse, Hofstra University, Hempstead, New York
May 15, 2009
Bronx Opera's production of The Magic Flute
Lovinger Theater, Lehman College, Bronx, New York
May 9, 2009
Bronx Opera's production of The Magic Flute
Lovinger Theater, Lehman College, Bronx, , New York
May 8, 2009
50th Annual Citizens Housing and Planning Council Luncheon
Marriott Marquis, Times Square, New York, New York
April 2, 2009
First Friday Mass for the Sacred Heart Church and School
Sacred Heart Church, Bronx, New York
March 6, 2009
2008 Enchanted Holiday Evening Gala
The Metropolitan Club, New York, New York
December 10, 2008
The 10th Annual Highbridge Voices Holiday Concert
The Sacred Heart Auditorium, Bronx, New York
December 11, 2008
The Bernstein MASS Project with the Baltimore Symphony Orchestra
under the direction of Marin Alsop
The United Palace Theater, New York, New York
October 25, 2008
The Bernstein MASS Project: A Choral Exploration
Zankel Hall at Carnegie, New York, New York
October 19, 2008
Capuchin Food Pantries' Sixth Annual
'Women of Valor' Awards
Waldorf-Astoria Hotel, New York, New York
August 13, 2008
Highlights of our 2007-2008 Season
10th Annual Highbridge Voices Benefit Concert
Marina del Rey, Bronx, New York
May 20, 2008
Insight for New Housing's Annual Fundraising Dinner
Honoring the Reverend Monsignor Donald Sakano
Maestro's Hall, Bronx, New York
April 24, 2008
4 + 44 Police Officer Awards
Bronx Community Board 4 Municipal Awards Committee
Old Yankee Stadium Club House, Bronx, New York
February 19, 2008
Highbridge Voices' Annual Winter Concert
Sacred Heart School, Bronx, New York
December 20, 2007
Annual Tenant Holiday Luncheon
The Hines Corporation, New York, New York
December 11, 2007
'A Holiday Family Concert' with the Bronx Concert Singers
St. Paul's Evangelical Lutheran Church, Bronx, New York
December 1, 2007
'Investing in Children, Strengthening Families'
Visiting Nurse Service of New York Annual Gala
The Waldorf-Astoria Hotel, New York, New York
November 8, 2007
McCabe/Nowakowski Wedding
Old St. Patrick's Cathedral, New York, New York
October 6, 2007
Highlights of our 2006-2007 Season
'Raise the Roof' Benefit for Habitat for Humanity
St. Bart's Cathedral, New York, New York
June 23, 2007
Highbridge Voices' Annual Spring Concert
West Bronx Recreation Center, Bronx, New York
June 7, 2007
9th Annual Highbridge Voices Benefit Concert
The New York Botanical Garden, Bronx, New York
May 24, 2007
Performance to Benefit Children Who Are Sight Impaired
Maestro's Catering, Bronx, New York
April 26, 2007
President's Reception
College of Mount Saint Vincent, Riverdale, New York
April 25, 2007
"Bronxnet's Variety Talk Show – OPEN"
Lehman College, Carman Hall, Bronx, New York
February 23, 2007
"Highbridge Voices Annual Winter Concert"
Sacred Heart School, Bronx, New York
December 21, 2006
"Tenants' Annual Holiday Celebration"
Hines Corporation, New York, New York
December 13, 2006
"Family and Friends Day"
Price Waterhouse Coopers, New York, New York
December 2, 2006
Highlights of our 2005-2006 Season
"Highbridge Voices 'Expect Excellence' Concert hosted by Congressman José Serrano"
Upper Senate Park, Washington, D.C.
July 13, 2006
"Fourth Annual New York International Choral Festival"
Lincoln Center's Alice Tully Hall, New York, New York
June 19, 2006
"Highbridge Voices 2nd Annual Block Party"
1372 Merriam Avenue, Bronx, New York
June 17, 2006
"Highbridge Voices' 8th Annual Benefit Concert"
The New York Botanical Garden, Garden Terrace Room, Bronx, New York
May 24, 2006
"Black History Month Celebration"
Bronx office of U.S. Congressman Jose Serrano, New York, New York
February 10, 2006
"The Highbridge Voices' 2005 Holiday Concert"
Sacred Heart Church, Bronx, New York
December 21, 2005
"Hebrew Home for the Aged"
Bronx, New York
November 30, 2005
"Macy's Thanksgiving Day Parade" performance with Michael Feinstein
New York, New York
November 24, 2005
Special Performance for the Fish Hatchery Gala
Long Island, New York
September 10, 2005
Highlights of our 2004-2005 Season
"Highbridge Voices Block Party & Spring Concert"
Merriam Avenue, Bronx, New York
June 18, 2005
"Walt Disney World Children in Harmony Choral Festival"
Walt Disney World, Orlando, Florida
May 26-30, 2005
"Voices of Youth Delta Sigma Theta Sorority"
Epworth Methodist Church, Queens, New York
May 19, 2005
"Highbridge Voices' 7th Annual Benefit Concert"
The New York Botanical Garden, Bronx, New York
May 18, 2005
"Fellowship Breakfast, PSA 7"
Mitchell Community Center, Bronx, New York
November 10, 2004
"Junior Achievement of New York 2004 Leadership Gala"
World Financial Center, Wintergarden Theater, New York, New York
November 9, 2004
"Grantmakers for Children, Youth, and Families 19th Annual Conference"
Hayden Planetarium, New York, New York
October 4, 2004
"Learning Leaders Opening Meeting"
The Marriot Marquis, New York, New York
October 1, 2004
"National Night Out Against Crime"
44th Precinct, Bronx, New York
August 7, 2004
Highlights of our 2003-2004 Season
"Morgan Stanley Children's Hospital Campaign Finale Celebration"
Morgan Stanley Children's Hospital, New York, New York
July 28, 2004
"The Grand Step Project" Dancing in the Streets"
Bronx County Courthouse, Bronx, New York
June 23, 2004
"New York Restoration Project's Annual Spring Picnic"
Swindler Cove Park, New York, New York
June 17, 2004
"An Evening of the Arts: Romeo and Juliet"
P.S. 199, The Shakespeare, Bronx, New York
June 11, 2004
"Highbridge Voices' Annual Benefit Concert"
Maritime Hotel, New York, New York
May 25, 2004
"Council of Youth Groups Youth Forum"
Bronx Community College, Bronx, New York
April 24, 2004
"Highbridge Voices Holiday Concert"
Sacred Heart Church, Bronx, New York
December 19, 2003
"The Today Show"
Rockefeller Center, New York, New York
December 16, 2003
"Saturday Night Live"
NBC Studios, New York, New York
December 13, 2003
"Ribbon Cutting Ceremony for the Highbridge Homes"
Shakespeare Avenue, Bronx, New York
October 9, 2003
Highlights of our 2002-2003 Season
Derek Jeter's "Turn 2 Foundation" Annual Dinner"
Regent Hotel, New York, New York
June 16, 2003
Community Collaborative to Improve District Nine Schools
Latino Pastoral Action Center, Bronx, New York
June 11, 2003
Highbridge Voices Annual Spring Concert
West Bronx Recreation Center, Bronx, New York
June 6, 2003
"Highbridge Voices Annual Fundraising Event"
St. Peter's Church at CitiCorp Center, New York, New York
May 28, 2003
Bronx Council on Arts Award Ceremony
Lehman College, Bronx, New York
January 30, 2003
"Highbridge Voices Holiday Concert"
Sacred Heart Church, Bronx, New York
December 20, 2002
"Today Show"
Rockefeller Center, New York, New York
December 17, 2002
"Elijah's Angel" with the Bronx Arts Ensemble
New York Botanical Garden, Bronx, New York
December 15, 2002
Performances at Local Bronx Schools, P.S. 73 and C.E.S. 126
Bronx, New York
December 12, 2002
The Enterprise Foundation's Annual Benefit Dinner
Hudson Theater, New York, New York
November 18, 2002
Community School District Nine's Annual Reading Conference
Community School 218, Bronx, New York
November 2, 2002
26th Annual Multiple Sclerosis Dinner of Champions
Marriott Marquis Hotel, New York, New York
October 17, 2002
Concert Performance, sponsored by the Italian American Heritage Association
The Church of the Holy Innocents, New York, New York
October 9, 2002
Macy's Celebrates 100 Years on Herald Square
Macy's Herald Square, New York, New York
September 23, 2002
Season Commemoration of September 11th sponsored by NYC Dept. of Cultural Affairs
Van Cortlandt Park, Bronx, New York
September 11, 2002
Vigil Concert, The Church of the Sacred Hearts of Jesus and Mary
New York, New York
September 10, 2002
"Verizon Literacy Kickoff" featuring Literacy Champion, Al Jarreau
Scholastic Headquarters, New York, New York
September 4, 2002
Highlights of our 2001-2002 Season
"National Night Out Against Crime", sponsored by the 44th Precinct
Bronx, New York
August 6, 2002
Memorial Service for Dr. Antonia Pantoja, founder of ASPIRA
Riverside Church, New York, New York
July 17, 2002
"Highbridge Voices in Concert"
West Bronx Recreation Center, Bronx, New York
June 7, 2002
Sacred Heart Middle School & C.E.S. 11 Concerts
Bronx, New York
May 23, 2002
"Young Music Makers Concert"
Lincoln Center for the Performing Arts, New York, New York
May 23, 2002
"Macy's Petacular"
Macy's Herald Square, New York, New York
March 24, 2002
Annual Fundraising Concert
City Center, New York, New York
January 24, 2002
Annual Holiday Concert
Sacred Heart Church, Bronx, New York
December 21, 2001
"Elijah's Angel" with the Bronx Arts Ensemble
New York Botanical Garden, Bronx, New York
December 2, 2001
Macy's Thanksgiving Day Parade
New York, New York
November 22, 2001
Highbridge Unity Center Ground Breaking Ceremony
Bronx, New York
November 21, 2001
Bronx Council on the Arts Cultural Kick-off
New York Botanical Garden, Bronx, New York
September 29, 2001
Highlights of our 2000 – 2001 Season
Performances at local Bronx schools
Bronx, New York
June 14, 2001
Sisters of Life Tenth Foundation Anniversary
Union League Club, New York, New York
June 1, 2001
"Highbridge Voices in Concert"
Hostos Center for the Performing Arts, Bronx, New York
May 25, 2001
Sacred Heart School Anniversary Celebration
Bronx, New York
May 12, 2001
"Macy's Annual Flower Show"
Macy's Herald Square, New York, New York
April 20, 2001
"Highbridge Voices in Concert"
Centenary Arts Guild, Hackettstown, New Jersey
February 10, 2001
Live Radio Performance at Centenary College
Hackettstown, New Jersey
February 8, 2001
Live Performance on "Good Day New York"
FOX Studios, New York, New York
January 5, 2001
"Highbridge Voices in Concert"
Alice Tully Hall, New York, New York
December 15, 2000
Edward Cardinal Egan's Annual Christmas Luncheon
Grand Ballroom, Waldorf Astoria Hotel, New York, New York
December 14, 2000
"Tenth Annual Candlelight Vigil for Homeless Children" sponsored by Covenant House
Times Square, New York, New York
December 7, 2000
"Elijah's Angel" with the Bronx Arts Ensemble
New York Botanical Garden, Bronx, New York
December 3, 2000
Highbridge Voices in Concert with the Bronx Symphony
Hostos Center for Performing Arts, Bronx, New York
November 12, 2000
Highbridge Voices in Concert with the Bronx Symphony
Bronx High School of Science, Bronx, New York
November 5, 2000
"An Evening of Puccini" by The Sacred Music and Art Foundation
Church of the Holy Innocents, New York, New York
October 27, 2000
Church of the Holy Innocents Benefit Dinner, Church of the Holy Innocents,
Church of the Holy Innocents, New York, New York
October 16, 2000
"Cultural Card Season Kick-Off" sponsored by the Bronx Council on the Arts,
New York Botanical Garden, Bronx, New York
October 7, 2000
Highlights of our 1999 – 2000 Season
Cavalry Hospital Awards Dinner Dance
Waldorf Astoria Hotel, New York, New York
June 28, 2000
Performances at local Bronx Schools
Bronx, New York
June 13, 2000
"Highbridge Voices in Concert"
Saint Peter's Church, New York, New York
June 1, 2000
"Highbridge Voices in Concert"
West Bronx Recreation Center, Bronx, New York
May 26, 2000
"Lincoln Center Out of Doors"
Lincoln Center Plaza, New York, New York
May 11, 2000
FUBU Fashion Show, sponsored by Manalé
Beyond the Moment, New York, New York
April 30, 2000
"Highbridge Voices in Concert"
Church of the Holy Innocents, New York, New York
April 11, 2000
"New York Kids" radio program
Station WNYC AM 820, New York, New York
March 19, 2000
"Romance and Rhythm" featuring Steve Ross
Symphony Space, New York, New York
February 14, 2000
"Highbridge Voices in Concert"
Saint Patrick's Cathedral, New York, New York
December 28, 1999
"Late Night with David Letterman"
Ed Sullivan Theater, New York, New York
December 23, 1999
"Highbridge Voices in Concert"
The Cathedral Basilica of Saint James, Brooklyn, New York
December 19, 1999
"Highbridge Voices in Concert"
West Bronx Recreation Center, Bronx, New York
December 18, 1999
Robert Kapilow's "Elijah's Angel" with the Bronx Arts Ensemble
New York Botanical Garden, Bronx, New York
December 5, 1999
"All the Way…A Decade of Song" with Céline Dion
Radio City Music Hall, CBS Television, New York, New York
November 23, 1999
"Cultural Card Season Kick-Off" sponsored by the Bronx Council on the Arts
New York Botanical Garden, Bronx, New York
October 9, 1999
"National Academy Foundation Dinner"
Marriott Marquis Hotel, New York, New York
October 5, 1999
Live performance on the Jerry Lewis Telethon
UPN Channel 9 Studios, New York, New York
September 6, 1999
Highlights of our 1998 – 1999 Season
A performance at Fordham University sponsored by Bronx Arts Ensemble
Bronx, New York
August 1, 1999
Montefiore Hospital "Ground Breaking Ceremony" Featuring Vice-President Al Gore
New York, New York
July 24, 1999
A performance at the Hudson Theater
New York, New York
June 29, 1999
Gould Memorial Library Auditorium
Bronx Community College, Bronx, New York
June 19, 1998
Performances at local Bronx schools
Bronx, New York
June 9, 1999 through June 11, 1999
"Highbridge Voices in Concert" sponsored by the Bell Atlantic Foundation
Bryant Park, "Highbridge Voices in Concert,"
June 1, 1999
"Highbridge Voices in Concert"
Hostos Center for Performing Arts, Bronx, New York
May 6, 1999
"A Voice Raised Against the Dark"
Sacred Heart Church, Bronx, New York
December 20, 1998
Cardinal John O'Connor's Annual Christmas Luncheon
Grand Ballroom, Waldorf Astoria Hotel, New York, New York
December 10, 1998
Debut of Robert Kapilow's children's opera "Elijah's Angel" with the Bronx Arts Ensemble
New York Botanical Garden, Bronx, New York
December 6, 1998
Performances with Céline Dion
Madison Square Garden, Continental Airlines Arena, and Nassau Coliseum
August 30, 1998 through September 4, 1998