Our Summer Voices is back!!
Program Dates: August 23- August 27, 2021
Sign up by August 1, 2021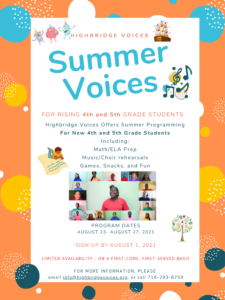 Summer Voices is an expanding music and academic program at Highbridge Voices. For two weeks each summer, rising fourth and fifth graders participate in this day-camp experience to get a feel for what it's like to be in Highbridge Voices. Students participate in daily choir rehearsals and learn the basics of how to read music and how to be in a choir. Summer Voices participants also dust off their math and English language arts skills in preparation for the coming school year. Add in large group games, outdoor recreation time, lunches, and great staff—and you have an experience you can only find at Highbridge Voices! To be eligible for Summer Voices, students must have completed third or fourth grade and live in the Highbridge neighborhood. To register, please submit these forms: Fillable 2021 Summer Program Permission Slip or Online Registration form by August 1, 2021.
For more information, contact us.