On March 7, 2013, Highbridge Voices Chamber Choir boarded a plane to sunny Orlando, Florida, where they spent four days making music, learning about college, and having fun. Thirty five members of the choir experienced an unforgettable trip, and they made quite an impact on all those who heard them sing.
The Chamber Choir left on Thursday from JFK Airport, and landed just three hours later in Orlando. They made their way to their hotel and enjoyed dinner and a good night's rest—Friday promised to be a big day!
At 5AM on Friday, alarm clocks went off, and the singers woke from what was surely too short a night. They dutifully put on their black gowns and tuxedos, and boarded a bus for the Saratoga Springs Resort, where they would perform at Festival Disney. Waiting in the auditorium was a panel of three expert adjudicators: Dr. Russell Robinson from the University of Florida, Dr. Giselle Elgarrestra Rios from Barry University, and Dr. James Morrow from the University of Texas at Austin. The Chamber Choir performed three pieces: "Ergen Deda", "O, My Luve's Like a Red, Red Rose", and "Tres Cantos Nativos Dos Indios Krao". The new Women's Choir then performed three of their own selections: "Hotaru Koi", "Seal Lullaby", and "Jordan's Angels". After each performance, the choirs had the opportunity to workshop with one of the judges. The judges gave the choirs very fine compliments and some excellent pointers on how to improve upon what was already very good work.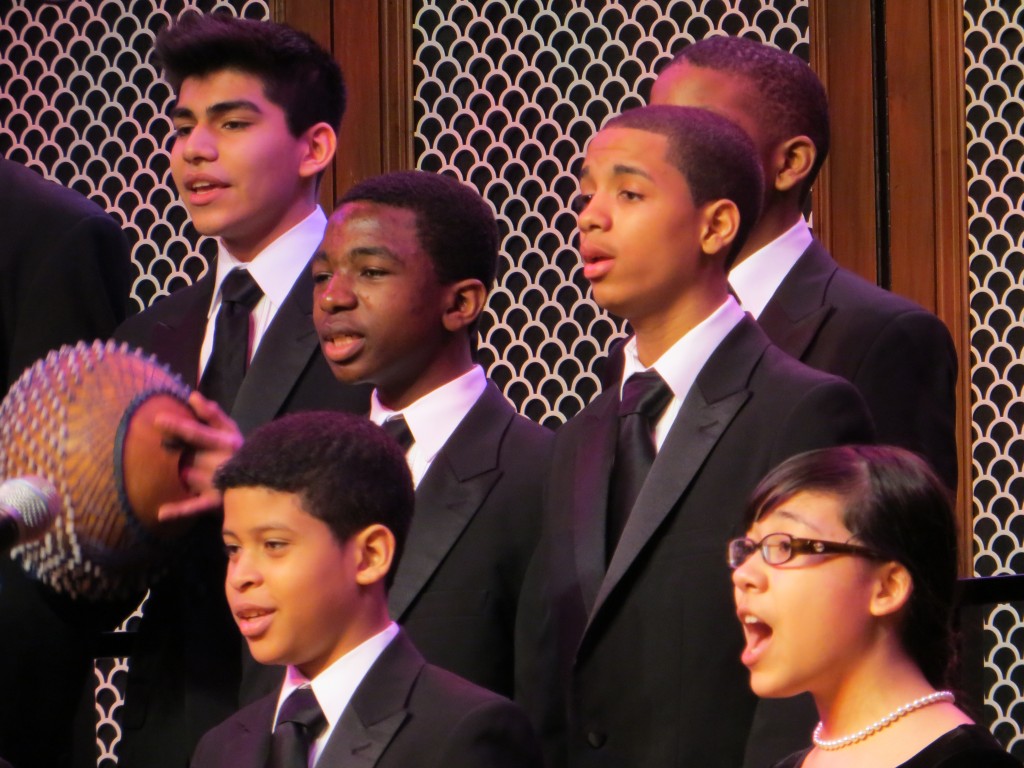 Even though the singers were tired after their excellent performance, there was no time to rest. They got back on the bus and travelled to the University of Central Florida, where they had some lunch in the student union, and got an extensive campus tour from UCF students. The singers were also introduced to faculty at the UCF School of Business, and enjoyed listening to faculty and students talk about what a real college experience is like. The Highbridge Voices students had thoughtful questions to ask about choosing a major, balancing school and fun, and finding jobs after college.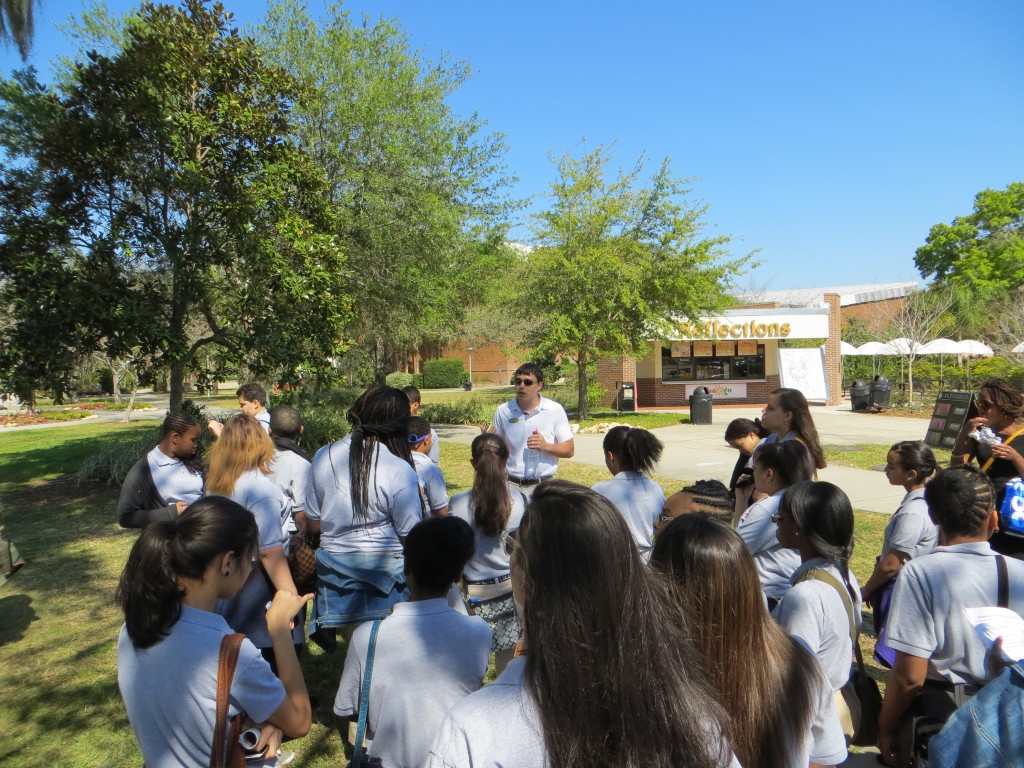 The last part of the day was a visit to the UCF School of Music, where Dr. Kelly Miller gave them a dynamic choral clinic. She worked them especially hard on "Tres Cantos Nativos dos Indios Krao", and the students were inspired and motivated by her energy. In just 45 minutes, she explored new ways to perform the piece, including additional choreography and challenging tempo changes. The students had a blast!
After what most of us would consider a packed day, the students got on the bus and went directly to Disney World, where they enjoyed dinner, fireworks, and free time at EPCOT. These students certainly earned a bit of fun at the end of the day, and they made the most of it!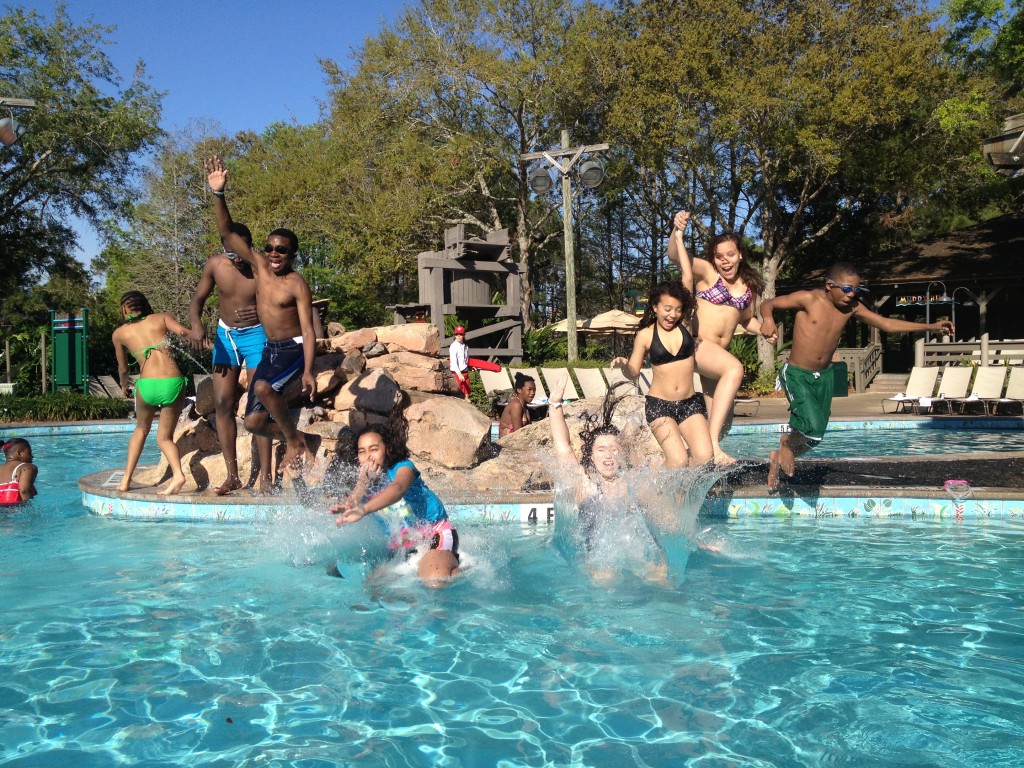 The rest of the weekend was a welcome reward for the months of hard work that led up to Friday's performances. With Walt Disney World right outside their hotel rooms, the students explored the Magic Kingdom, Animal Kingdom, and Hollywood Studios—it was an unforgettable experience. And, at the awards ceremony for the choir festival, the students were not disappointed—scoring SUPERIOR in both Women's Choir and Mixed Choir categories. What a perfect way to end such a wonderful trip!