Read an account of Highbridge Voices' 2014 tour, by Chamber Choir student, Michael Rondon.  

Tour Photos
By Michael Rondon, Jr. Grade 8
On April 13th, 2014, twenty-nine students of the Highbridge Voices Chamber Choir set out on a tour bus ready to see the sights of many different areas, including venues in Houghton, New York and throughout Canada. It was the start of the Chamber Choir 2014 Tour that would last for five days. This tour would enable the choir to eat delicious food, see breathtaking sights, and meet new friends who would sing and share their music with us. The trip promised to be fun for everyone involved. We were all very excited as we set out on that sunny Sunday morning from the South Bronx.

After a long first day on the bus and a good night's rest in a Microtel Hotel, we rose, put on our polos and khakis, ate a great breakfast and set off for Houghton College. Upon arrival at the venue, we were escorted into the campus' beautiful recital hall. We then got to sing and share music with The Houghton College Choir. The Chamber Choir was privileged to hear the grown and mature voices of a wonderful group led by choir director Dr. Johnson. After listening, we sang for them to their delight. Eventually, the Chamber Choir got to work with Dr. Johnson, who fine-tuned our voices, offering helpful suggestions to make us sound even better! Five Chamber Choir students—Kiara Perez, River Johnson, Sadia Perez, Kenyette Belle, and Ryan Figueroa—even got to sing solos. We all then got an exclusive tour of the campus, which included a meal in the cafeteria. All in all, it was a great day.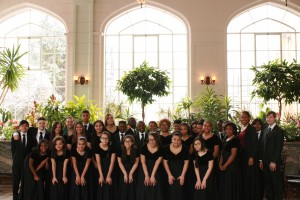 The following day, the choir set off across the northern border. We eventually arrived in Toronto and visited Casa Loma, an old Toronto historical landmark. We performed there and took in the breathtaking scenery and history. After singing, the choir traveled to downtown Toronto where we saw some of the wonderful places in the city. Accomapnied by our adult chaperones Ms. Clementi, Ms. Nikita and Mr. Woo, the choir split up to explore the sights of Toronto. The day concluded with a dinner at the Old Spaghetti Factory. We ate and celebrated our success so far.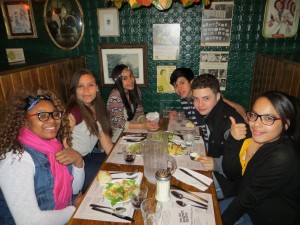 The tour continued the following day with a visit to Westlane Secondary School in the Niagara Falls region of Toronto. We shared music with the students at the school, and even sang a song with the Westlane Singers. After the performance, we took in the awesome natural wonder of Niagara Falls. The Choir also got to experience the "Home of the Revolving Dining Room," the Skylon Tower. We took pictures and enjoyed all the spectacular scenery. The day continued with lunch at the Skylon, and concluded with our arrival at one of the most famous water-park/hotels in the world, Great Wolf Lodge.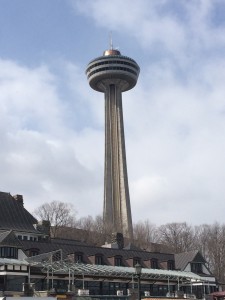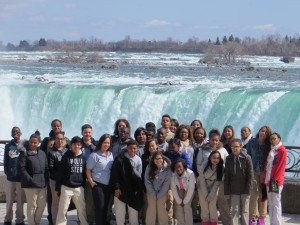 The next morning, the choir celebrated the tour by enjoying all the amusements of the water-park, before finally saying goodbye to a most remarkable place. What a great, fun way to end a tour! Exhausted, we boarded the bus and said goodbye to Canada. As we passed the border back into the United States, it was nice to know that our families would be anxiously awaiting our return to the Bronx. Tour Photos