Read an account of our 2015 West Coast Tour written by 8th grade student Michael Rondon.
On the early morning of April 6, I woke up quickly to find out that it was the day of
our departure to California. It was the start of the 2015 Spring Tour, which would cover
the San Francisco area, and other spaces around the Bay.
As the Chamber Choir and I got to Highbridge Voices around 5:00am, well-rested
from a good night's sleep, I grew apprehensive. Today was the day I would experience
my first airplane ride! I was walking around, talking to other people, trying to get my
mind off my fear. Our chaperones for the trip Ms. Clementi, Ms. Turnbull, and Mr. Woo
were also a bit nervous as well. They would be taking a group of kids across the
country for the first time!
The other members of the choir seemed animated. People were saying goodbye
to their parents, double checking their luggage, taking occasional group pictures and
whatnot. We all talked about what we would see over in California.
We eventually arrived at JFK International Airport, and unloaded the bus. We
checked in, got through security, and waited for our flight to be ready to board.
Throughout the long process, my friends reassured me that there would be nothing to
worry about.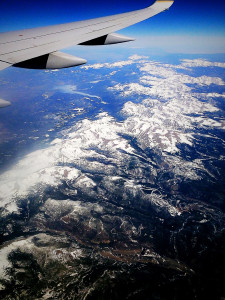 Before I knew it, I was on an United Airlines Flight, listening to standard safety
instructions. Our choir was seated in different places, and we were ready to go.
During the presentation, the plane was taxiing to the runway. After the taxi, I
knew what followed. I heard the engines rev up. The sound was awesome! With a
glance out the window, I found that the plane had lifted off. I looked over to Ms.
Clementi, and she said, "Are you good?" I gave thumbs up and started to relax.
But after that part, my fear diminished and I enjoyed the ride.
After a long 6 hour journey, we landed in San Francisco International Airport. I
remember one of my friends mentioning how different of an atmosphere there was
compared to New York.
Our first stop was a famous burger joint that is common in California, InandOut
Burger. We ate, and then left for some sightseeing.
Mark, our bus driver, dropped us off at Pier 39 to see all types of things. The
choir was split into 3 groups, for each of the 3 chaperones. I was in the best group, Ms.
Clementi's group. For the rest of the afternoon we checked out sea lions, went through
a mirror maze, saw a clear view of Alcatraz Island, watched a snippet of a magic show,
and took pictures along the way. One of the choir members, Michael Bonnah, even
dropped his phone to another level of the pier, and retrieved it unbroken and without a
scratch!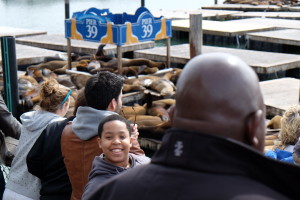 As the next morning greeted us, we ate breakfast, and prepared ourselves for
what we'd be doing that day. It was the day that we would be visiting Twitter, and
performing at Mission Dolores. We toured all around Twitter, seeing where they had
parties, where they got their food, and where they did their work. The tour concluded
with a presentation and a small performance for some of the employees. After our tour,
we split into groups for sightseeing. We tasted some Ghirardelli Chocolate and tried
California famous Sourdough bread.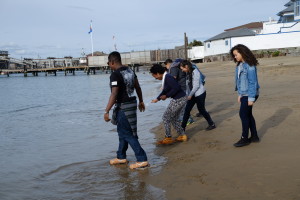 After all that, we regrouped to get ready for our
concert that followed. Despite the size of the audience, it was a big achievement to get
people to see children from the South Bronx perform across the country. After our concert,
to show our appreciation for their presence, we the audience personally with
smiles and wished them a nice evening.

The next day, it was Google time, we embarked on a tour led by the employees
there. We were treated to a nice presentation of what Google is and a Q&A Panel with
some of the workers. Following the presentation, we were led to the Visitor Center,
which featured really cool things. The room showcased some of the technology that's
used with Google Maps and Android devices. After a few moments, we partook in some
delicious Google Food! The selections there were gorgeous! You had everything from
pizza to dessert there. Overall, the experience was great and I know I loved Google.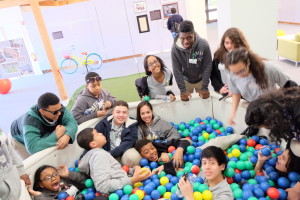 But on top of all the fun, we still had one stop on that day left, and it was to San
Jose State University. As we arrived, we made our way to their rehearsal hall and heard
the magnificent college voices. It was so beautiful! Mr. Dineen, a Highbridge Voices
Trustee who was accompanying us for most of the trip, agreed with me as he pulled out
his phone and recorded the moment. After the rehearsal, it was time for our workshop.
Dr. Benson gave us useful pointers and advice for Ms. Clementi to use.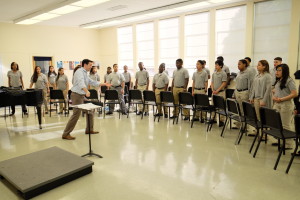 Concluding our day, we went to Mr. Woo's Family's restaurant, Tao Tao Cafe.
The food there was so different to what we were used to, but it was great!
When daylight greeted us, we checked out of our hotel, and started to travel to
the Marin Headlands.
When we finally arrived at our hostel in the Headlands and put all our luggage
there. We then set out to hike to our 1st destination in the Headlands, the Marine
Mammal Center. There, we had a class in which we dissected a fish and learned about
where their organs are and how the function. A short lunch followed.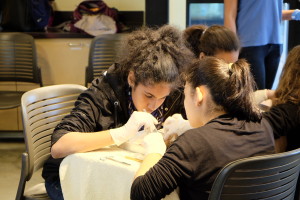 But that wasn't the end, of the day, however. Led by two nature watchers, we
took a hike to a place not on the official map of the park. Along the way to our hiking
destination, we found all sorts of the beauty of nature. After a few pictures, we headed back to the hostel. We thanked our guides when
we arrived, and they left.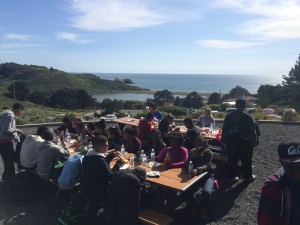 At this point, we were waiting for our Cooking Class with author and food activist,
Bryant Terry. While waiting, Ms. Clementi decided to crack one of her "long 20minute"
jokes. It was about this duck who went into a bar, but the bar never had what he
wanted. It was one of the most memorable moments of the tour I believe.
In the cooking class, I learned how to properly hold a knife, and how to avoid
cutting myself. We all chipped in making parts of the meal, and it turned out to be
delicious.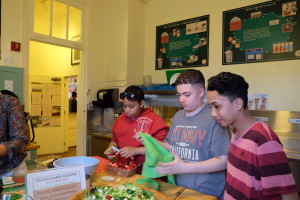 In the morning that followed, we enjoyed a bit of leisure time before we left to the
airport. Some of us used that time to stay inside the lobby, napping.
At the San Francisco International Airport, we ate a lunch,
and boarded our flight to New York.
At around 12:00 EST, we arrived at Highbridge Voices exhausted at the amount
of spectacular things we got to be part of. And it's all because of Highbridge Voices.
Surely this experience will stick with me and for the whole choir for years to come.