Read this account of our tour by 7th grade student Zane S.
It was an early Tuesday morning as I woke up with a start. It was April 26 and I was excited, for today was the day that I went on my first Spring Tour with Highbridge Voices to Boston! I was so happy to have the chance to go on tour with so many of my friends.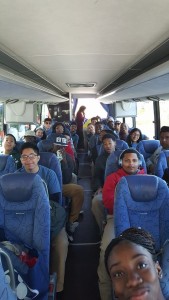 I arrived with the rest of Chamber Choir at Highbridge Voices around 8:00 am, super pumped and ready for a crazy week. The bus ride was 4 hours long, but we talked to each other, played games and slept to pass the time. I was a little nervous to go so far away, but I had my friends there with me so I knew there was nothing to worry about.
Before I knew
it, we were in Boston and it was amazing but very different from the Bronx. I saw trains on the street coming to a stop waiting for the cars to drive by. I wanted to ride one so badly. Our first stop was All Saints Episcopal Church as we had a quick sound check. It sounded great.
We left the All Saints Episcopal Church and got on the bus to go to lunch. We went to a place call Faneuil Hall. There were a bunch of gift shops, but I went right to the food. I ate a hamburger and fries. The food tasted really different. And the fries were really big!
After lunch, we got back on the bus and we made our way to Embassy Suites, the incredible hotel where we stayed. We changed into our concert attire. We didn't stay long for we needed to hurry to our concert.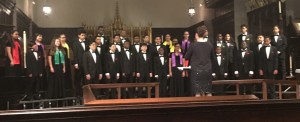 We arrived at the church in a flash thanks to our bus driver Vladimir. The concert was a blast! The soloists were amazing and everyone did a great job, but it was a little weird because there were only 9 people at the concert.
We jumped on the bus and went to dinner at a cool pizza place called Pepe's Pizzeria. It tasted so good. (But nothing can top amazing New York pizza.)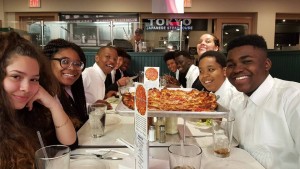 The next day, I woke up only a few seconds before one of the staff knocked at the door. We got ready, went downstairs, and ate a delicious breakfast. After breakfast, we departed for Downtown Boston. We ended up going to the Freedom Trail. This nice lady was showing us around the Freedom Trail led by a character who was a former slave who met John Hancock. I learned that in the same cemetery that John Hancock was buried slaves weren't able to be buried, but he still had his slaves buried.
After all of that walking, it was time for lunch. We went to a park and ate sandwiches. When I was done eating, I played tag with some of my friends. I saw some people playing football and others just sitting around on their phones or talking to each other.
About 2 hours later, we were on the bus heading to a choral exchange with the Boston Children's Chorus. They sang incredibly. I found out that they are made up of 13 different groups. Us boys got to sing with the men's choir which was really fun. Something I learned on the trip was time moves fast when you're having fun because before I knew it, it was already time to go and say goodbye.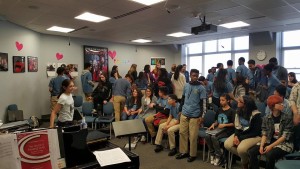 We walked to dinner at Fire & Ice, an amazing place where you go and grab your food in a buffet and then give it to the people to cook right in front of you like a show. They did a few tricks here and there and I will never forget ever going to that place.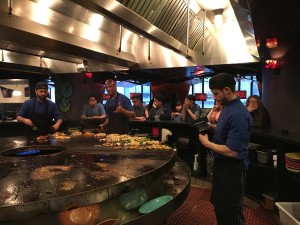 On the third day, I was not ready for what I saw. We woke up and ate some breakfast again and were ready to depart for the Science Museum. It took about an hour but we made it. We split into groups and I was in a group with Jacob, Edgar and Mr. See as our chaperone. We saw frogs swimming and tried out new things with magnets and weights. To top all of that we got to see an electric light show. After that my group and I saw a 4-D movie with spraying water, falling snow, and moving chairs. It was so fun. After that we ate near Boston's Science Museum and explored the Beacon Hill area.
But that wasn't the end, of the day. We got to go to Harvard and meet a choir called the Kuumba Singers with different levels of who work together like a family. (which is somewhat similar to Highbridge Voices).
On the last say, we checked out of the hotel and got on the bus to experience the best part of our trip: Whale Watching! We got on a boat that sailed out about 20 to 30 miles, and we saw a bunch of whales, but the most common was the humped-back whale. My friend D'Angelo named one of the whales Victoria. I started to laugh, but soon we were calling all the female whales Victoria and the male whales Victor. It was really fun, but all good things must come to an end.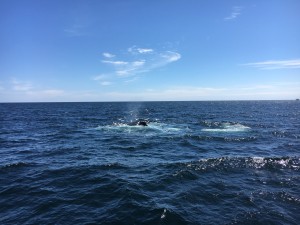 We circled back to land and got back on our bus to the Bronx. I got off the bus but made sure to thank Vladimir for the amazing job he did of driving us around. I will never forget the trip to Boston, and I can't wait for more to come.