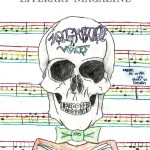 We are proud to release the first annual Highbridge Voices Literary Magazine. Assisted by Academic Team Leader, Danny Lanzetta, the students who made up the Saturday Afternoon Editorial Team convened every Saturday this winter and spring to evaluate submissions and assemble what we hope will be an annual project.
Lanzetta writes, "When we started the creative writing seminar last November, we wanted to provide a safe forum where students could feel free to express themselves through their own, unique voices, giving shape to feelings they often put on the back burner for the good of the "team". We wanted . . . to let them know that the things they think and feel are important, and not to stifle those impulses, but to find an outlet for them."
We have created a FREE online version for you to enjoy.
Thanks to The Ann M. Martin Foundation, The Neuberger Berman Foundation, MetLife Foundation, and The New York Yankees Foundation for supporting the Creative Writing Initiative.