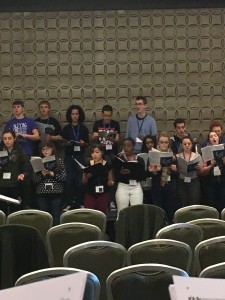 On Wednesday February 10-Saturday Feb 13, Highbridge Voices juniors River J. and Sadia P. traveled to Boston to sing in the Eastern Division Honor Choir for the American Choral Directors Association Regional Conference. River and Sadia submitted audition recordings in June of 2015 and were informed of their acceptance into the choir this fall. The young women worked on their music for four months, using practice tracks and rehearsing with their Highbridge Voices voice teachers to prepare for the performance.
The Honor Choir was directed by Dr. Jeffery Redding, a choir conductor and clinician from Orlando, Florida.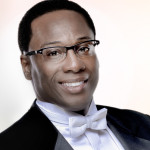 Speaking about the experience, Sadia said: "I was so nervous, but the music is so incredible and Dr. Redding is such an outstanding conductor. I never imagined I would have such a good time! I don't want the weekend to be over!"
The choir performed on Saturday, Feb 13 at New England Conservatory's Jordan Hall, a beautiful historical auditorium. The house was packed as 150 students took to the stage to sing a very challenging concert including :
Awake the Harp by Haydn
Sicut Cervus by Palestrina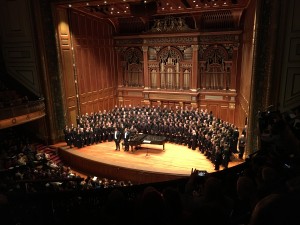 Gloria Fanfare by J. Ames
Ballade to the Moon by D. Elder
Tykus, Tykus by V. Augustinas
Berusa Er by S. Kallman
Witness by M. Butler
The choir did an amazing job, and we are so proud of Sadia and River. Way to go, ladies!