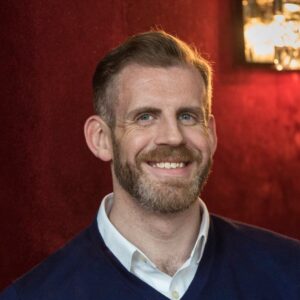 Joseph Hudson, Assistant Director of School Programs at the Metropolitan Opera Guild, is responsible for the development of instruction and curriculum content for all school residency programs. He also supervises the entire staff of Guild Teaching Artists, and is responsible for the coordination and facilitation of their individual and group professional development plans. Additionally, he is responsible for designing and implementing the department's research practices and procedures, and supervising the general administration of the department. Initially joining the staff part-time as a Teaching Artist in 2009, Joseph transitioned into full-time work in the fall of 2012 as the Manager of Urban Voices and University Partnership programs in New York and Massachusetts. He was promoted to his current position in the summer of 2018.
Prior to joining the Metropolitan Opera Guild full-time, Joseph enjoyed a diverse career as an educator, administrator, conductor, singer, and collaborative pianist. He was the Assistant Minister of Music at the Park Avenue Christian Church where he conducted the Park Avenue Youth Chorale. He also served as the assistant conductor and organist for the Sanctuary Choir, in which he also sang. Additionally, he administered the entire music/arts department, including ticketing/front of house, information, and contract management for a professional concert series at the church. Joseph has held teaching positions with various schools, universities, and organizations working with pre-school through college/adult students, and has enjoyed collaborating with other music teachers as an accompanist and vocal coach. Most recently he served as the Music Director for multiple shows in the middle school theater program at the Packer Collegiate Institute in Brooklyn and was a vocal coach for students in the All-City High School Chorus for six years before the onset of the pandemic.
Joseph remains in-demand as an educator and currently serves on the part-time faculty of Highbridge Voices, where he is the director of the 9th – 12th grade choir and teaches theory and musicianship classes. Additionally, Mr. Hudson maintains a small studio of private students with a 100% admission rate to competitive conservatory and music education programs. Joseph produced/music directed/performed in the popular "Love Notes" program for the Christ Chapel Chamber Series at the Riverside Church and has appeared on the same series annually. Recent collaborative piano work includes his Carnegie Hall debut (Stern) and several recitals featuring the works of Robert Schumann and Hector Berlioz. Joseph holds the Bachelor of Science degree in Vocal/Choral Music Education and a Master of Music in Vocal Performance from the University of Alabama.